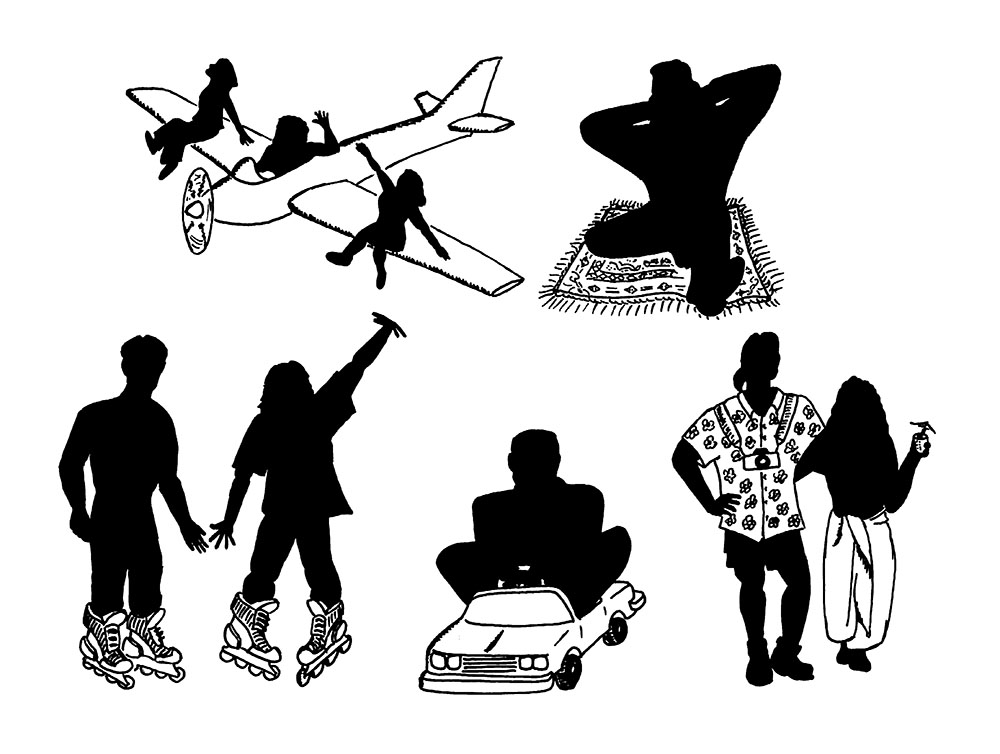 Journeys in Jazz (1997)
This image was the program and poster art for the spring 1997 Cal Jazz Choir concert Journeys in Jazz. It was inspired by Joseph H. Jennings' delightful arrangement of Bill Evans & R. W. Worth's song Journey to Recife, as performed by Chanticleer. Whenever I listened to it, I could just see the Jazz Choir grabbing the nearest mode of transportation and heading for the beach. I pestered director Bill Ganz until he let us perform it. Thanks so much, Bill! Your tireless creativity, loving guidance, and infinite patience with us were truly a blessing.
The members that inspired each silhouette are (with recent name changes in parentheses, when I could find them) from left to right, on plane: Corbi Wright, Michelle Bloom (Goetzl) and Sara Ferejohn (LaBatt), on flying carpet: Prakash Bhave, wearing in-line skates: Toby Jaw and Sarah Aldinger, in toy car: Wynn Wilcox, wearing Hawaiian shirt and sarong: myself and Susan Garcia (Martin).
It was hard posting this and the other artwork of the Cal Jazz Choir and Artists in Resonance members. My time with them was so amazing, and it disappeared as quickly as it appeared. It's hard not to get nostalgic. My hope in posting them is not to inspire nostalgia, but rather to point us in the direction that I hope we'll all go. It was a gift, meant to fill us with joy that overflows into the rest of the world. Let your light shine!
© W. Rhett Davis 1997